A look at Lombardo's budget: Record savings, K-12 spending bump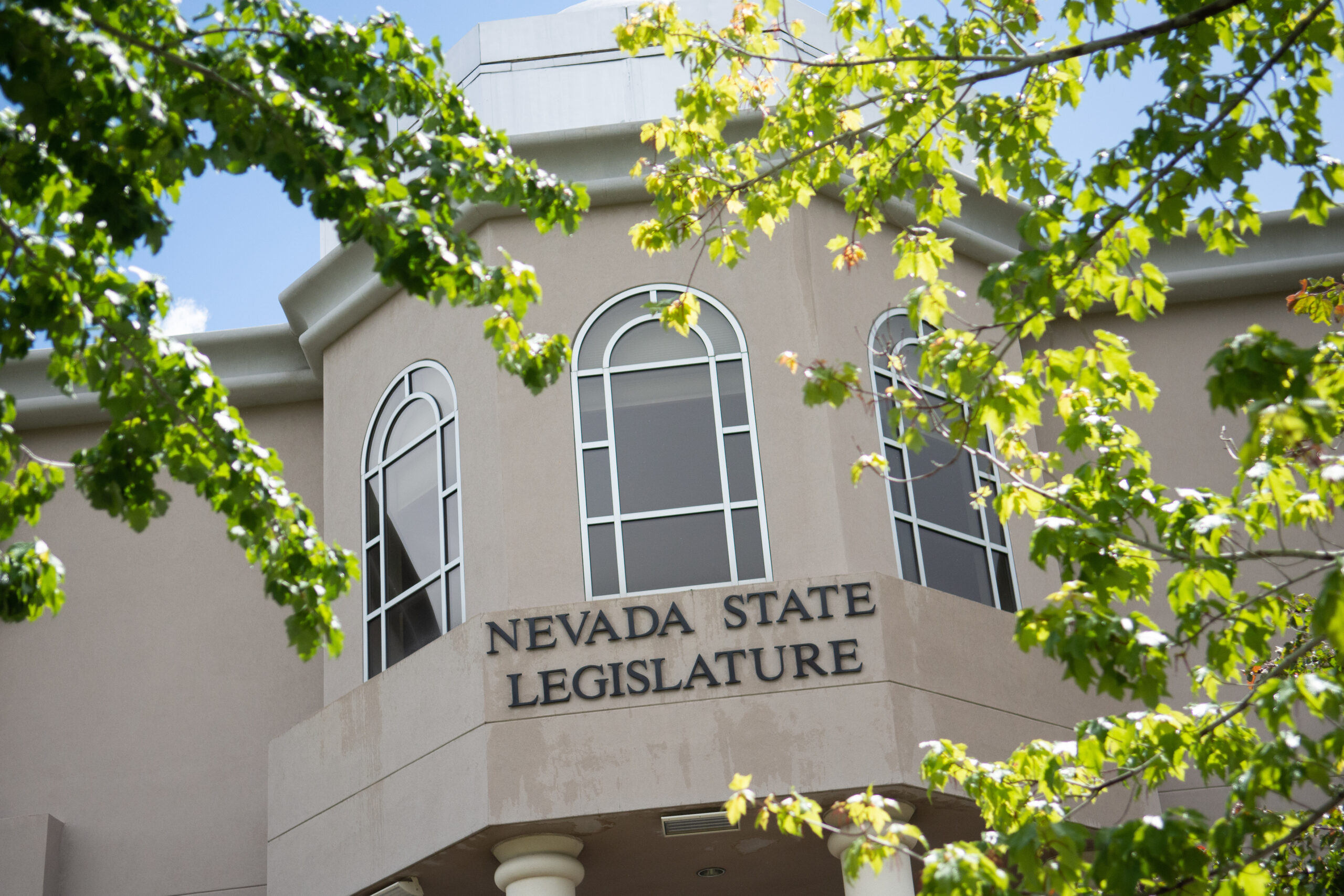 Republican Gov. Joe Lombardo is proposing an $11 billion budget — the largest two-year general fund budget in state history — that includes "the single largest investment in K-12 education" in Nevada history, unprecedented investments into state savings, a yearlong suspension of the gas tax and 8 percent raises for state employees in the next year.
The proposal, which was released Monday evening alongside the governor's biennial State of the State address, sets the general fund budget at $11 billion over the next two years, an increase of more than $1.7 billion over the current two-year state budget. The significant increase — combined with a roughly $1.9 billion windfall in extra cash from the current budget period — comes as a period of high inflation and increased consumer spending have buoyed state revenues from sales and gaming taxes, but also as some experts foresee a downturn soon.
With extra cash on hand, Lombardo's proposed budget would leave the state with $2.2 billion in savings by the end of the biennium in June 2025. Those historically large savings would be split between $729 million for the Education Stabilization Account, an emergency savings account for K-12 education, and nearly $1.6 billion in the Rainy Day Fund, a state savings account used to stabilize the operations of state government during emergencies, such as the COVID-19 pandemic.
Ben Kieckhefer, Lombardo's chief of staff, described the budget as "focused on the future."
"We're in this unprecedented moment where we have opportunities to invest strategically, save strategically and position ourselves as a state for the long term," he said in a briefing Monday.
Lombardo's proposed budget also puts K-12 education front and center, with a proposed increase of $2 billion for the Pupil-Centered Funding Plan that would increase annual spending per student by more than $2,000 — from $10,290 to $12,406.
For higher education, Lombardo has proposed restoring operating budgets to pre-pandemic levels, and increasing funding for graduate students and the UNLV medical school.
Other highlights of Lombardo's proposed budget include:
A $1.2 billion capital improvement plan with funds for major construction projects, including three new state office buildings and a new Department of Motor Vehicles office in Southern Nevada
A Medicaid rate increase of 5 percent for physicians, dentists and nursing homes
A foster care rate increase of 25 percent for providers
$17 million for six new certified behavioral health centers throughout Nevada
The budget proposed is a recommendation from the governor and is expected to be adjusted by state lawmakers during the upcoming 120-day legislative session, which begins Feb. 6. But Kieckhefer said he would defend the proposal against any questions, describing it as "good policy" and adding that it "funds a lot of the priorities that a lot of the majority party legislators have been talking about for years."
The budget could potentially be restricted in May when the state's Economic Forum, a state-appointed, five-member panel of business experts, will meet to set final projections for state tax revenues during the two-year budget period. Their forecast is used to determine the size of the general fund budget.
Read additional highlights from Lombardo's proposed budget below. A full recap of the governor's State of the State address can be found here.
Increased education budget
Lombardo's $2 billion increase in education spending fully funds so-called "equity weights" baked into the state's Pupil-Centered Funding Plan for English Language Learners, at-risk students and gifted and talented students.
The budget also would allot tens of millions in new spending for a host of existing programs, including $50 million for the state's Opportunity Scholarship program — a tax credit-funded scholarship program designed to allow students to attend private K-12 institutions that was at the center of a protracted court battle. It proposes $10.5 million more for dual-language pilot programs; $30 million for Teach Nevada scholarships and student teacher stipends for aspiring educators; and an additional $30 million to expand pre-kindergarten.
Lombardo's proposed education budget does not point to money specifically for teacher pay. Kieckhefer noted that any raises for teachers need to be negotiated at the local level.
Tax cuts
Lombardo's proposed budget includes a one-year-long suspension of the state's gas tax — a 23-cent-per-gallon tax on all motor fuel.
Kieckhefer tied the state's excess cash reserves to "increases in costs to our constituents" caused by inflation, and said "we're prepared to return some of those funds to people" through the suspension of the gas tax.
Though the suspension of the tax is expected to create a revenue shortfall of $250 million, the state will use cash on hand from excess tax revenues collected in the current budget period to backfill the loss and maintain stability within the state's highway fund.
Other tax cuts will be directed at businesses — including a statutorily required reduction in the Modified Business Tax rate to a floor of 1.17 percent. The tax is applied to the wages businesses pay workers.
Lombardo also proposed raising the threshold for the Commerce Tax from $4 million to $6 million, effectively increasing the minimum level at which businesses can be taxed for annual revenues grossing to more than $6 million.
State employee pay
Despite a proposal from his predecessor, Democratic Gov. Steve Sisolak, to increase pay for state workers by 10 percent in the upcoming fiscal year and 5 percent in the following year, Lombardo proposed slightly smaller increases for state workers (8 percent in the upcoming year, followed by 4 percent in the next year).
"The increases included in my budget are a major first step in a sustainable pathway to increasing state employee pay to where it deserves to be," Lombardo said.
He proposed slightly larger increases for state public safety employees — 10 percent in the first year — but also said he would provide $2,000 bonuses to executive branch employees. Those bonuses would be spread out in $500 installments each quarter.
"I'm asking the Legislature to pass a supplemental appropriation as one of its first bills, to fund these bonuses, starting at the end of March," he said.
Increased higher education spending
The education spending plans also includes tens of millions in investments in higher education, including $76 million to offset operating budget cuts from 2021 as a result of the pandemic. Kieckhefer also said colleges would receive funding to offset enrollment declines in late 2020 and 2021, also spurred by COVID.
The budget would allot $20 million to fund increases to graduate assistantship stipends at UNLV and UNR, a years-long goal of graduate students at both universities who have long argued the stipend rates are too low in light of the rising cost of living. The problem has been compounded for international students, who are often limited by visa restrictions and unable to find additional income.
Another $9 million will be sent to UNLV's medical school to hire more faculty to staff its newly finished Medical Education Building and address a nursing and physician shortage that administrators have said has made it difficult for universities and colleges to compete with hospital pay rates.
Lombardo also announced $5 million in one-shot funding for a study to revamp the higher education funding formula, now more than a decade old. Though the current formula ironed out many of the north-south divisions that had plagued the university system for decades, community college leaders have argued more recently that the weighted credit-hour based formula does little to address non-credit-bearing students that are more common at colleges than universities.
An additional $75 million in "pre-funding" would be included to fund the state's Millennium Scholarship through the 2027 fiscal year. The budget also proposes $6 million more for the state's Promise Scholarship program, designed to drastically reduce the cost of community college for Nevada high school graduates.
State savings
As part of his proposal to send more money into the Rainy Day Fund, Lombardo's proposed budget calls for a new account within that fund called the "Nevada Way Fund," which would be seeded with $313 million.
Lombardo said those funds would "be used for transformational economic development projects and critical infrastructure needs in areas such as emerging markets in the north and south ends of the Las Vegas Valley, as well as in other emerging markets in Nevada."
The account would be overseen by a new committee made up of the governor and Democratic and Republican leaders in the Senate and Assembly.
Though the fund would act as an additional layer of savings within the Rainy Day Fund, Kieckhefer said those dollars could also be used for projects that are "truly transformative for the state that would allow leverage with outside investment."