Incumbent advantage runs strong in Southern Nevada local government contests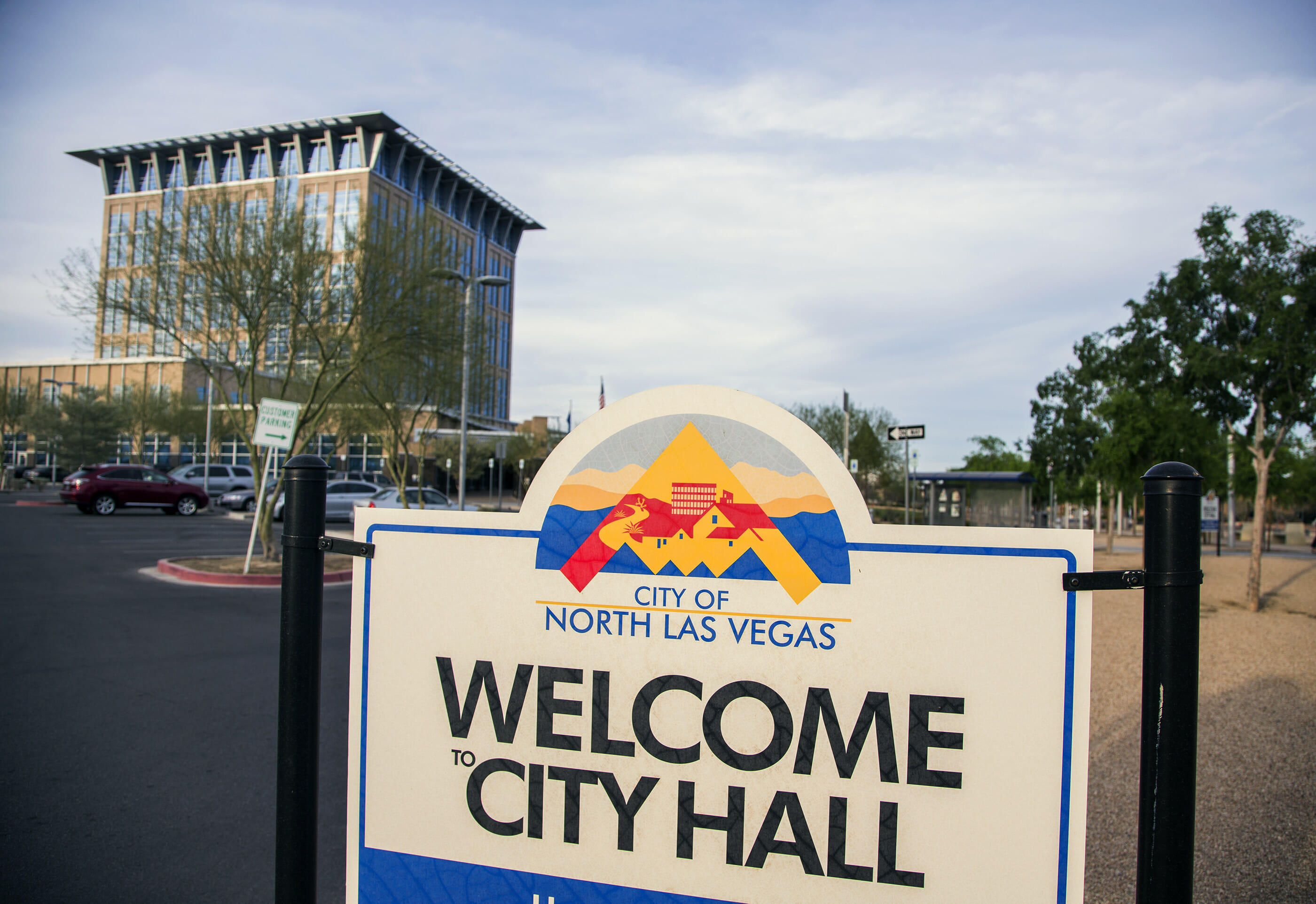 Candidates who already hold elected office dominated in many of Southern Nevada's major local government races, winning re-election outright in certain Las Vegas and North Las Vegas council races and getting promotions in Henderson and Boulder City mayoral contests.
Elsewhere, including in races for the Clark County Commission, primaries determined who will face deep-pocketed Democratic incumbents in November.
Below are highlights from major municipal contests in the greater Las Vegas area.
Clark County Commission District E
Clark County Commissioner Richard "Tick" Segerblom easily triumphed over his primary challenger Jacob Macias, carrying a double-digit percentage point lead over the political newcomer.
As a fourth-generation Nevada state representative seeking his second four-year term on the commission, Segerblom is now headed for a general election matchup with Republican Jon Rider, who defeated Dennis Ayala in the primary.
Segerblom previously served for more than a decade in the Legislature as both an assemblyman and state senator. 
"Because of redistricting, I have many new voters that I haven't represented in the past, so they are learning about me for the first time," Segerblom told The Nevada Independent. "Also, the turnout was about 25 percent which is more than expected and an encouraging sign that voters are paying attention and motivated."
Macias does not have a campaign website and neither Ayala nor Rider have reported fundraising totals. Segerblom ended March with nearly $260,000 in his campaign war chest.
Segerblom's biggest challenge in November will likely come from Marco Hernandez, a labor leader who gave Segerblom stiff competition in 2018 in the district's Democratic primary, which Segerblom won by less than 200 votes.
"But this time around, my strategy's a little bit different from the last time," Hernandez told The Indy during the primary election season. "And it's actually going to be more hands on … because I'm taking some time off from work." 
Nonpartisans Hernandez and Joette Luiz, as well as Randy Rose, a member of the Independent American Party member, may also be on the November ballot, although nonpartisan and minor party candidates must meet certain requirements to appear on the ballot, such as submitting a qualifying petition signed by voters.
District E is home to about 300,000 people in the Paradise, Sunrise Manor, Whitney and Winchester areas of the Las Vegas Valley.
Clark County Commission District F
Conservative columnist and public policy analyst Drew Johnson won a four-way Republican primary for the chance to challenge incumbent Clark County Commissioner Justin Jones for the District F seat. 
"Voters, regardless of political affiliation, want an alternative to the failed policies of the Clark County liberal mafia. And I'll offer a refreshingly honest and transparent approach to government," Johnson told The Nevada Independent when speaking about Jones' relationship to the late Harry Reid.
Johnson prevailed over Mike Campion, a financial director; John Ovnik, a music composer, and Jenna Waltho, a former county planning commissioner.
Jones, who did not attract a Democratic primary opponent, served in the state Senate from 2012 to 2014. He is also a practicing attorney who has contributed to the Legal Aid Center of Southern Nevada's Children's Attorney Project for child victims of abuse and neglect.
Johnson describes himself as a taxpayer advocate and budget watchdog. His past work has been published in outlets including Fox News and The Washington Post, and some pieces have been controversial, including one in The Daily Caller titled "The benefits of Internet porn" that he defends on his campaign website.
"I don't support online pornography as a way to reduce rapes and sexual assaults," Johnson explained. "My column simply discussed the findings of a number of significant scientific studies showing that correlation."
District F covers portions of Enterprise, Paradise, Spring Valley, Winchester and Red Rock.
Clark County Commissioner District G
Navy veteran Billy Mitchell won a Republican primary for the Clark County Commission's District G seat, setting up a general election matchup with far better-funded Clark County Commission Chairman Jim Gibson.
Mitchell defeated Joe Ludwig, a guest services representative with a background in public administration, although the two had only a few thousand dollars in campaign cash between them.
"I just received a call from my opponent Joe Ludwig," Mitchell wrote in a tweet. "Mr. Ludwig you are a man of Integrity & Honor! I look forward to having you on my TEAM to defeat Democrat Gibson November 8th."
District G covers Henderson and portions of Boulder City. Gibson is a former mayor of Henderson who is also president of Western Elite, a Clark County waste services provider and member of various boards.
Jesse Welsh, a Libertarian Party candidate, also will compete for District G in the November election.
Henderson Mayor
Henderson City Councilwoman Michelle Romero will be the next mayor of Nevada's second-largest city, winning more than three-quarters of the vote in the three-person race to replace outgoing Mayor Debra March.
Romero, who was elected to an at-large seat on the city council in 2019, previously worked for the city in a variety of positions, including as head of redevelopment from 2007 to 2016. She was endorsed by March, and lapped the field in fundraising, ending the last reported quarter with more than half a million dollars in cash on hand.
"Since my first election, I never stopped meeting with people and groups, listening to their concerns, and acting on them," Romero told The Nevada Independent. "I am a lifelong resident and have dedicated most of my adult life to improving and serving Henderson."
Her opponents, engineer Frank Ficadenti and political newcomer Drew Dison, each earned less than 15 percent of the vote.
By winning more than 50 percent of the vote in the nonpartisan primary, Romero automatically wins the office and will not be on the ballot in the general election.
Henderson City Council Ward 3
Henderson Chamber of Commerce Chair Trish Nash leads a crowded six-person race for the Henderson City Council Ward 3 seat, but with no candidate clearing more than 50 percent of the vote, the top two vote-getters in the primary will head to the general election.
"I am very pleased and humbled with the results so far," Nash wrote in an email to The Nevada Independent. "It was a very crowded Primary Election field; therefore, the likelihood of anyone getting 50% + 1 of voting was fairly small."
Nash and Carrie Cox, a kindergarten teacher at Pinecrest Academy who came close to unseating incumbent John F. Marz in 2017, will face each other in the general election to replace him. Three Square food bank executive Jodi Tyson came in third, and attorney Steve Rice — endorsed by Marz and March — came in fourth.
Under Henderson's city charter, if no candidate clears more than 50 percent of the vote in the primary, the top two vote-getters will move on to the general election.
Boulder City Mayor
Joe Hardy, a former Boulder City councilman and longtime state senator, has been elected as Boulder City mayor over incumbent Kiernan McManus. Hardy won more than three-fifths of the vote.
Under Boulder City's charter, a candidate that wins more than 50 percent of the vote in a primary election is automatically elected to the office.
North Las Vegas Mayor
North Las Vegas Councilwoman Pamela Goynes-Brown and state Sen. Pat Spearman (D-Las Vegas) are headed to a general election runoff in the race for mayor of North Las Vegas.
The seat will be open as incumbent Mayor John Lee did not seek re-election, instead pursuing an unsuccessful bid for governor.
Goynes-Brown earned more than a third of the vote in the eight-person race, while Spearman reached nearly 17 percent.
Under the city's charter, if no candidate wins an outright majority of votes in the primary election, the top two vote-getters will move to the November general election ballot.
Other candidates included former business leader Nathan Atkins, Army veteran Jesse Addison II, Nevada System of Higher Education (NSHE) regent Laura E. Perkins and Gary Bouchard, who ran unsuccessfully in 2017.
The general election winner will become North Las Vegas's first Black mayor.
North Las Vegas City Council Ward 1
Incumbent Councilman Isaac Barron won another term on the city council, gaining about two-thirds of the vote in his race against Lance Eliason, a hospital services liaison for the Nevada Donor Network and the son of a former city councilman.
Barron was first elected to the city council in 2013 and won another term in 2017. He ran unsuccessfully for the Clark County Commission District D seat in 2020.
Barron reported having $100,064 cash on hand during the first quarter of the year, while Eliason reported $20,100 in cash on hand.
The boundaries of Ward 1 roughly track along Interstate 15 and are in the southeastern portions of the city.
North Las Vegas City Council Ward 3
Incumbent Councilman Scott Black won another four-year term on the city council, after earning more than 57 percent of the vote in this three-person race.
Black had faced off against Air Force veteran Mario Mitchell and Jovan Jackson, who was formerly incarcerated, now owns two mental health facilities and had endorsements from progressive groups such as PLAN Action.
A small business owner and Boy Scout leader, Black was first elected to the city council in 2017.
Las Vegas City Council Ward 2
Victoria Seaman will retain her Ward 2 seat on the Las Vegas City Council after winning more than half of the votes in a six-way primary.
The crowded nonpartisan race saw several candidates throw their hats in the ring, including U.S. Army veteran Alan Bigelow, real estate and business broker Jeff Bradshaw, Erika "Doc Smith" Smith, career firefighter Michael Tomko and Ronald McWhorter.
As of the last campaign finance reporting deadline, Seaman, a Republican former assemblywoman who assumed her council seat in 2019, reported having $431,000 in cash on hand. That total dwarfed the hauls of her competitors, who raised a few thousand dollars at most.
Ward 2 is located in the southwest portion of the Las Vegas Valley.
According to the Las Vegas city charter, candidates who win more than 50 percent of the vote in the primary win outright.
Las Vegas City Council Ward 4
Bob Beers, a former city councilman and assemblyman, and Francis Allen-Palenske, a former assemblywoman, will proceed to the general election for the Las Vegas City Council Ward 4 seat after garnering the most votes in the nonpartisan race.
The seat will be open as incumbent Stavros Anthony is termed out and won the Republican primary for lieutenant governor. The donut-shaped ward is located in the west-central area of the Las Vegas Valley.
The competitive race is officially nonpartisan, but all four candidates who filed to run are Republicans, including Beers, Allen-Palenske, retired LVMPD police captain Robert Plummer and former educator and Trump supporter Brenda Flank.
Allen-Palenske reported raising $75,000 the first quarter, compared to Plummer's $43,000, Beers' $38,000, and Flank's $4,000.
Under state law, a candidate who wins more than 50 percent of the vote during the June primary automatically wins the seat. Otherwise, the top two vote-getters proceed to the general election.
Las Vegas Council Ward 6
Policy think tank leader Nancy Brune and Ray Spencer, who has led the Las Vegas Metropolitan Police Department's homicide unit, will face off in the general election for a chance to represent Ward 6 on the Las Vegas City Council.
The nonpartisan seat is opening as incumbent Michele Fiore runs for state treasurer instead of seeking re-election. Fiore won the Republican primary and is proceeding to the general election.
Brune, who was founder and previous executive director of the Guinn Center for Policy Priorities, reported raising about $147,000 for her campaign in the first quarter, while Spencer reported raising about $63,000 in that period.
Lou DeSalvio, president of the Laborers Local 872, came in third place and had raised about $138,000 for his campaign in the first quarter.
Four other candidates trailed far behind the three front-runners. They included author Luke Anderson, attorney Paul Casey, radiologic technologist Matt Passalacqua and David Dillie, who campaigned on being potentially the youngest elected official in Nevada.
Ward 6 includes the northernmost areas of the city.
Michelle Rindels and Riley Snyder contributed to this report. Updated at 9:25 a.m. on 6/22/22 to add additional comments from candidates.
Get more election coverage
Click to view our election page
Featured Videos
Comment Policy (updated 4/20/2021): Please keep your comments civil. We reserve the right to delete comments or ban users who engage in personal attacks, use an excess of profanity, make verifiably false statements or are otherwise nasty. Comments that contain links must be approved by admin.