Indy Gaming: A's stadium could be a home run for Gaming and Leisure Properties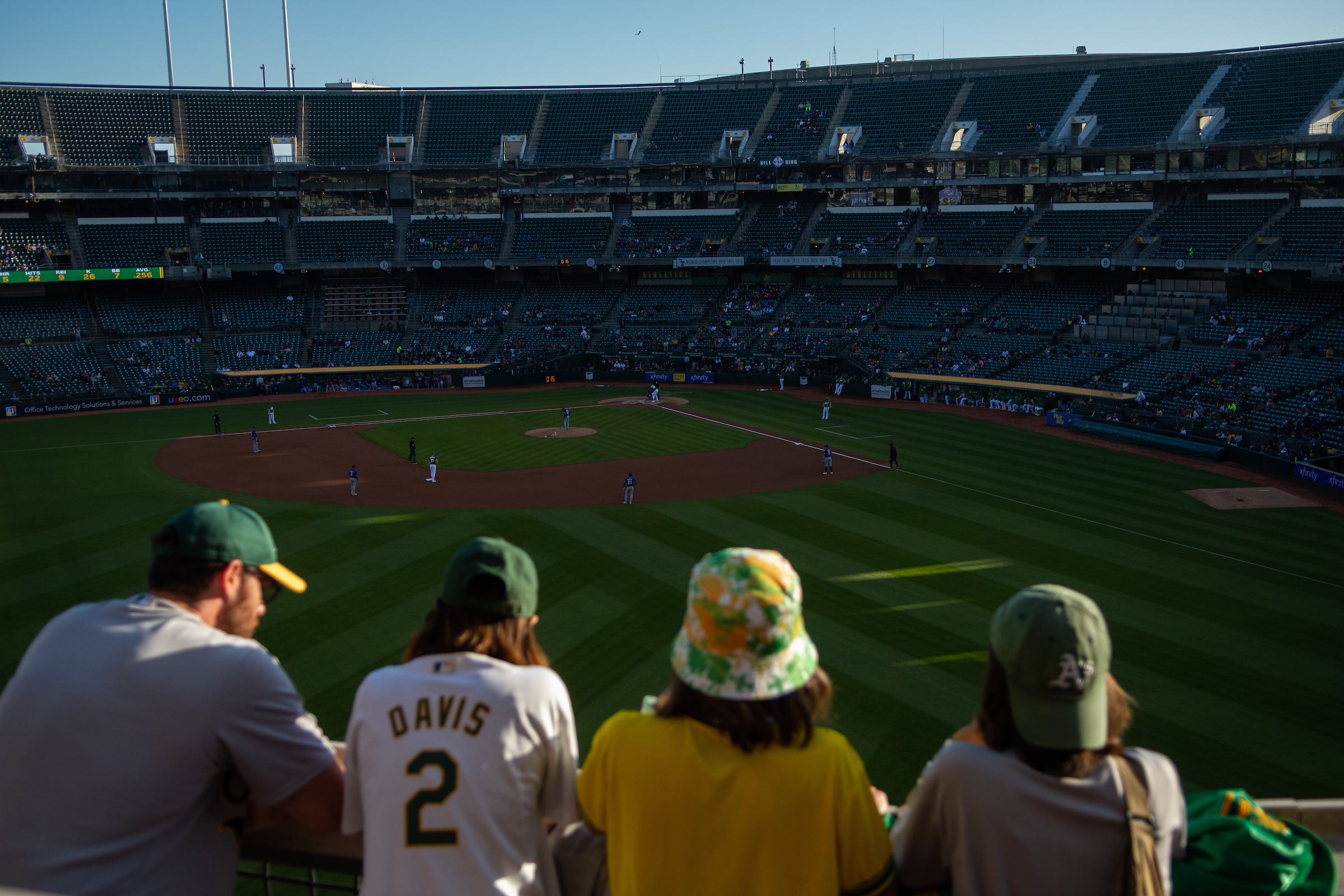 Good morning, and welcome to the Indy Gaming newsletter, a weekly look at gaming matters nationally and internationally and how the events tie back to Nevada.
If a colleague or associate emailed this newsletter to you, please click here to sign up and receive your own copy of Indy Gaming in your inbox. - Howard Stutz
---
Gaming and Leisure Properties (GLPI) is standing on third base, but there are two outs in the bottom of the ninth and it is waiting for someone to drive the company in as the winning run in the deal to bring the Oakland A's to Las Vegas.
Peter Carlino, CEO of the real estate investment trust (REIT), doesn't want to be left stranded.
It's been more than a week since GLPI and Bally's Corp. announced they would give the Major League Baseball franchise 9 acres to build a $1.5 billion, 30,000-seat retractable roof stadium near the Tropicana Las Vegas. Bally's operates the resort.
GLPI sweetened the pot, saying it would contribute $175 million toward "certain shared improvements within the future development." The REIT wants an adjustment to the $10.5 million in rent Bally's pays to lease the 35 acres on the Strip and Tropicana Boulevard.
As of Tuesday, A's and major state officials had reached a loose agreement for a public financing package of at least $325 million, significantly less than the team was seeking for tax credits and creating a special taxation district to fund the stadium's construction.
But the pitch clock is ticking.
JMP Securities gaming analyst Mitch Germain told investors in a research note last week that GLPI sees value in having a baseball stadium and an improved gaming property on the property. Bally's would likely demolish the Rat Pack-era Tropicana and build a destination more commensurable for the south Strip.
"The site will occupy roughly one-quarter of a 35-acre site, suggesting the potential to participate in future development opportunities," Germain wrote. "We view this as an incremental growth avenue for GLPI when the project takes place around 2025."
Carlino said as much when A's deal was announced May 15.
"A world-class Major League Baseball stadium on our site underscores its status as one of the most prime locations on the Las Vegas Strip and will enhance any future development of our remaining 26 acres," he said at the time.
Carlino created the gaming industry's first REIT in 2013 when he spun off almost two dozen properties operated by Penn National Gaming (now Penn Entertainment) into the newly formed GLPI.
REITs, by law, don't pay federal income taxes. With real estate as their primary source of income, REITs are required to distribute at least 90 percent of their taxable earnings to shareholders.
GLPI has almost 60 properties nationwide and owns five casinos in Nevada leased to operators. Penn Entertainment operates M Resort in Henderson as well as Horseshu and Cactus Pete's, two small casinos in Jackpot near the Idaho border. Caesars Entertainment operates Tropicana Laughlin.
Tropicana Las Vegas, however, offers the highest potential for a return on the company's investment.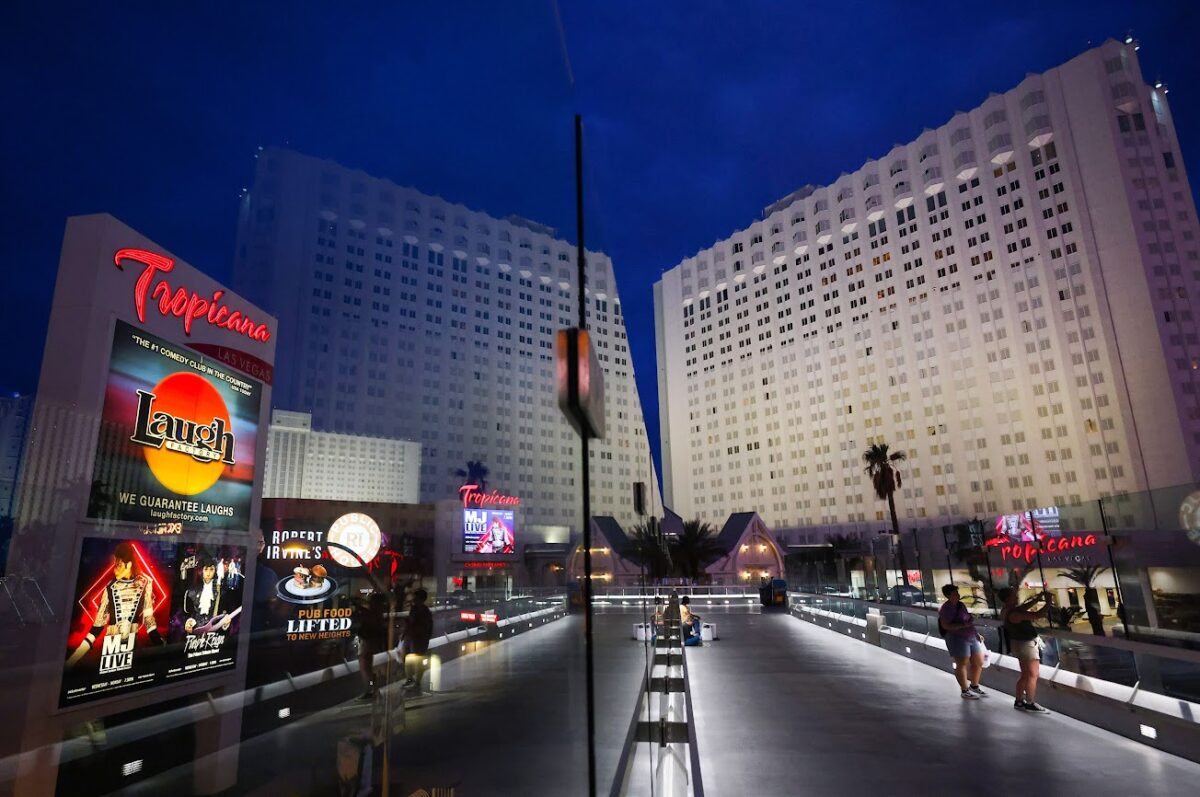 Germain said Gaming and Leisure and rival gaming REIT VICI Properties had made loans to various gaming operations because "traditional lending sources are too costly … [and] gaming operator stock prices remain too depressed to consider equity capital raising."
In October, GLPI said it would provide Penn $575 million to relocate an Illinois riverboat casino on land and fund other company expansion projects.
That's one reason the REIT wants the stadium added to the Tropicana's Strip location.
"We believe GLPI's capital likely screens favorably relative to bank financing, while it can leverage its existing relationship under a master lease with Bally's to offer growth capital," Germain wrote.
Even with the A's stadium deal not finalized, Carlino — a member of the Gaming Hall of Fame for his work in creating Penn and GLPI — is planning ahead.
"As the project moves forward, we also expect that GLPI will have opportunities to further invest in the various aspects of the overall project," he said.
---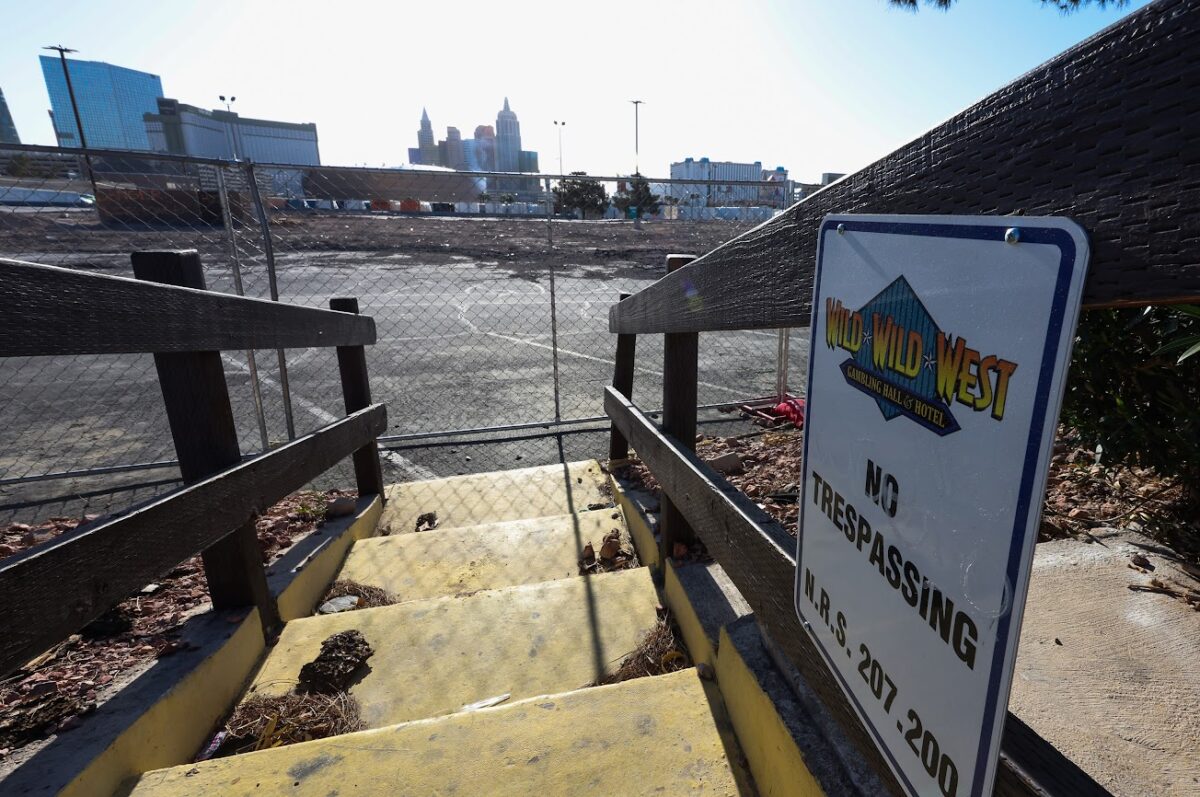 Red Rock exec: Loss of baseball stadium land sale 'painful'
Red Rock Resorts, which thought it had a "binding agreement" with the Oakland A's to sell the team 49 acres for a baseball stadium on the former Wild Wild West casino site, was certain the deal would give the company a lucrative development opportunity on its property next to the proposed ballpark.
Two weeks later, Red Rock was on the outside looking in after the A's took their plans for a $1.5 billion stadium plan a mile east to a 9-acre site at the Tropicana Hotel and Casino.
"Losing the deal for the Oakland A's relocation site was painful for Red Rock Resorts, management acknowledged," Stifel Financial gaming analyst Steven Wieczynski wrote in a research note Sunday following a meeting with company CFO Steve Cootey.
He said the company also lamented losing the undisclosed cash from selling the land.
However, there was a silver lining.
"Management indicated the land's value was not well understood prior to the [A's] bid," Wieczynski wrote. "They have recently seen increased interest from buyers now that it is back on the auction block."
He added Red Rock has "increased confidence" in getting a higher price for all or parts of the nearly 100-acre parcel.
---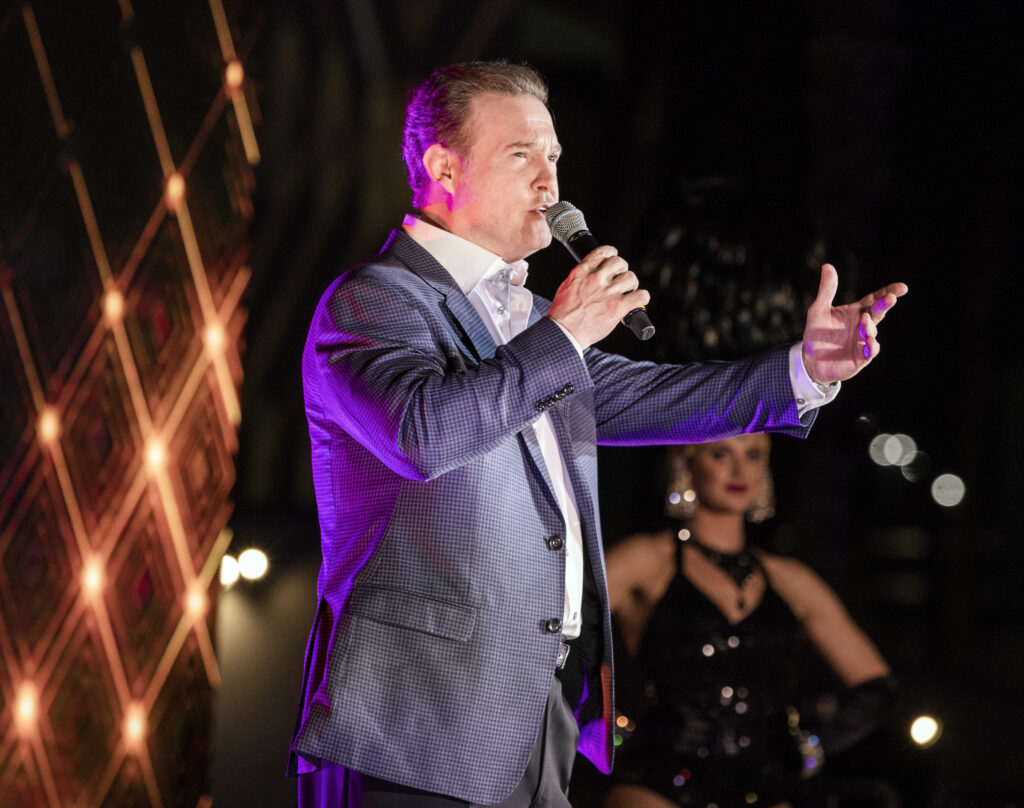 Sahara, Grand Sierra owner Meruelo loses arena vote in Arizona
The NHL's Arizona Coyotes lost a vote in the Phoenix-area city of Tempe last week for a $2.1 billion arena and entertainment district.
Coyotes owner Alex Meruelo also owns the Grand Sierra Resort in Reno and the Sahara Las Vegas.
While his arena vote was being considered, Meruelo was one of several North Strip casino owners trying to bring the Oakland A's stadium project to the 39-acre Las Vegas Festival Grounds, directly across from the Sahara. The site is owned by Circus Circus owner Phil Ruffin, and Meruelo discussed the A's with the billionaire.
"Alex has always thought the Festival Grounds makes the most sense for the stadium," said Andrew Diss, vice president of government affairs for Meruelo Gaming.
In Arizona, Meruelo planned to privately finance roughly $1.9 billion of the project, which included a 16,000-seat arena for the Coyotes on a 46-acre site. Two hotels, restaurants, a theater and almost 2,000 residential units were part of the proposal that had an economic impact of more than $13.6 billion over 30 years, according to the developers.
Tempe city leaders voted unanimously for the project, but the site sits on a former landfill and removal of the long-buried trash would have cost up to $150 million. Meruelo wanted a portion of the sales tax generated on the land to offset the cleanup costs, which required a public vote and was easily defeated.
The Coyotes played last season in the 5,000-seat Mullett Arena at Arizona State University after the team was evicted from its arena in suburban Glendale. The team will play at the Mullett again next season and is exploring alternative arena sites in the Phoenix area.
---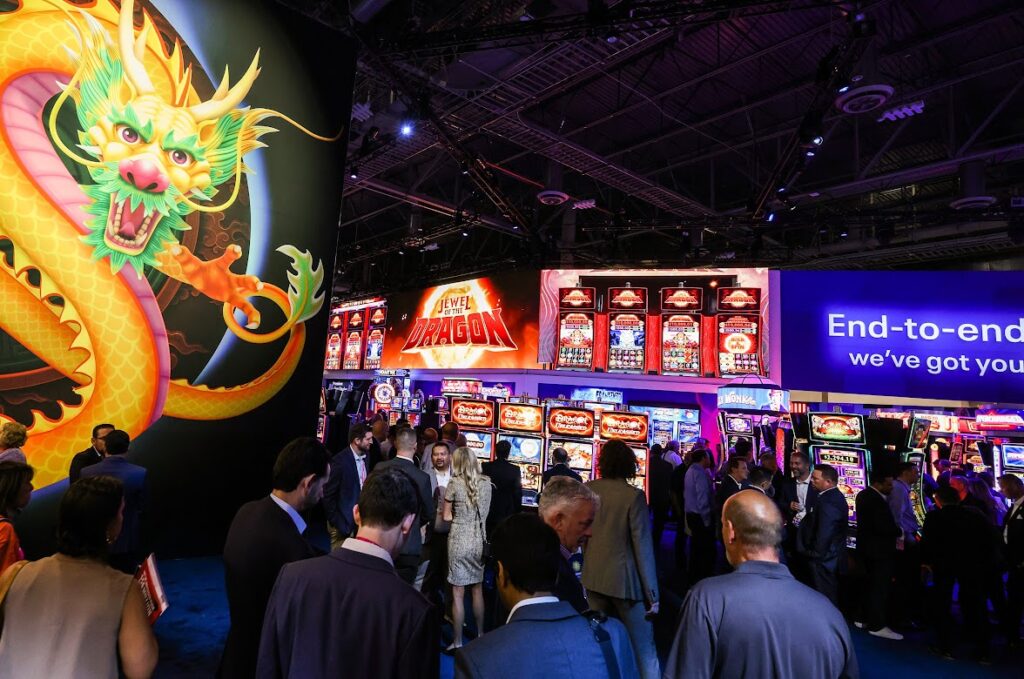 Light & Wonder seeks interest from Australian investors
Las Vegas-based gaming equipment provider Light & Wonder launched its secondary listing on the Australian Stock Exchange on Monday, a few days after announcing plans to acquire the remaining 17 percent of SciPlay Corp., the company's social gaming development subsidiary.
It was a busy week.
Light & Wonder, which is traded on the Nasdaq, was admitted to the Australian Exchange as a Foreign Exempt Listing. The company announced the plans in March as an effort to increase its profile in the country.
Light & Wonder Executive Chairman Jamie Odell and CEO Matt Wilson are two of several native Australians leading the gaming equipment provider.
Wilson told investors on the company's first-quarter earnings call May 10 that a listing in Australia could lead to additional business opportunities with the country's casino industry for its slot machines and other gaming products.
"For us, Australia is a bellwether for scaling successful games globally, with proven game mechanics that can also be leveraged in other markets," Wilson said. "Given the significant gains we've made in Australia, we also believe we can win a more substantial share of the North American market with the right focus and the right execution."
SciPlay was split off from Light & Wonder — then known as Scientific Games — in 2019 as a separate public company focused on developing the parent company's slot machine titles for the growing free-play social gaming business. Scientific Games retained controlling interest in SciPlay.
Last year, Scientific Games completed a corporate restructuring, taking on the name Light & Wonder after selling its legacy lottery business as well as its sports betting technology and management operations.
Regaining full ownership of SciPlay was viewed by Light & Wonder as a way to unify the company's businesses. The all-cash transaction was valued at $422 million with Light & Wonder paying $20 per share for the outstanding stock — 29 percent higher than the company's previous day's closing price.
Light & Wonder tried to buy back SciPlay in 2021 but offered just 11 percent above its price per share at the time.
"We believe the offer is considerably more compelling than the prior offer made by Light & Wonder for the outstanding stake," Deutsche Bank gaming analyst Carlo Santarelli told investors.
Truist Securities gaming analyst Barry Jonas said the transaction simplifies Light & Wonder's structure by giving the company full access to SciPlay's $358 million in cash and reducing public company and administrative costs, as well as aligning the gaming operating divisions.
---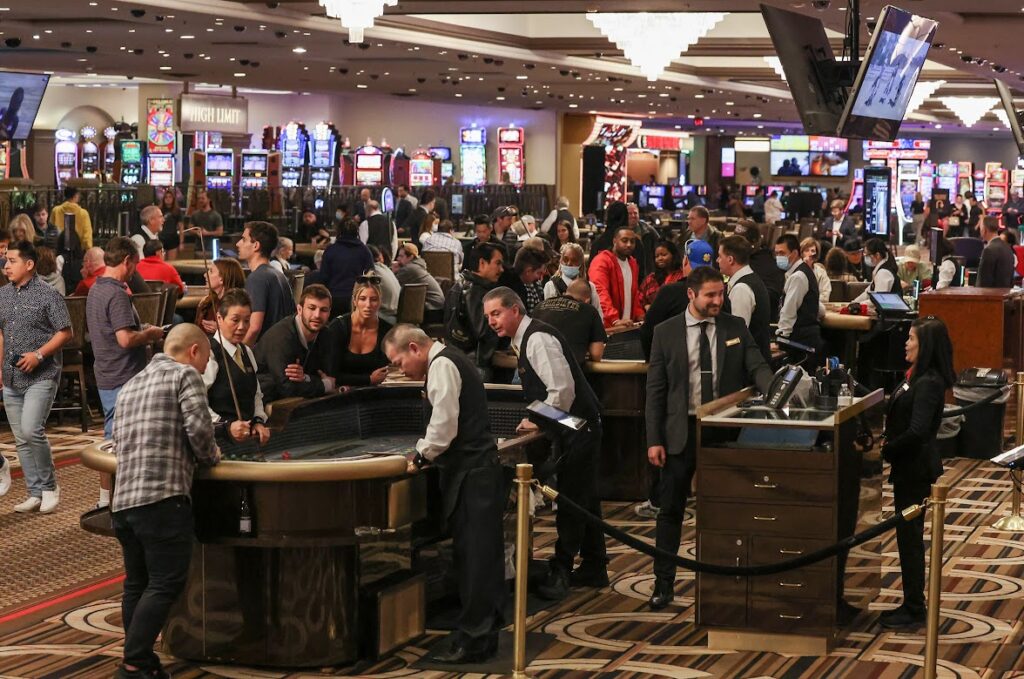 U.S. gaming revenue surpasses $16.6B in the first three months of 2023
Gaming revenue produced by the nation's commercial casino industry topped $16.6 billion through the three months of 2023 — the industry's eighth-consecutive record-breaking quarter — with March providing the highest-ever single-month revenue total of $5.9 billion.
According to the American Gaming Association, the first quarter figure was 15.5 percent higher than a year ago. The commercial casino industry, which covers 35 states, produced a single-year record of $60.4 billion in gaming revenue in 2022, which accounts for pretax earnings from casino games and slot machines, sports betting and online casino gaming in six states.
"With records across every gaming vertical, from brick-and-mortar casinos to mobile gaming, American adults continue to choose gaming as one of their top entertainment options," AGA CEO Bill Miller said in a statement.
The Washington, D.C.-based trade organization said slot machine revenue increased by 7.7 percent and table game revenue jumped 5.2 percent during the quarter. Sports betting revenue grew 70.1 percent after two new states — Ohio and Massachusetts — launched legal sports betting operations early in the quarter.
During the first three months of 2023, Ohio generated $387.3 million in revenue and $2.49 billion in wagers, the second highest in the nation behind New York.
Nevada, the nation's largest gaming market with more than $3.8 billion in the first three months of 2023, does not break out gaming revenue by casinos as is done in many smaller gaming states.
The AGA compiled the state-by-state figures and found that MGM National Harbor in Maryland, which is operated by MGM Resorts International, was the only commercial casino with more than $200 million in gaming revenue in the first quarter. Wynn Resorts' Encore Boston Harbor had the second-highest revenue total, followed by Live! Casino near Baltimore, which is operated by the Cordish Cos., and MGM's Borgata in Atlantic City.
The AGA did not provide revenue figures, just a baseline.
---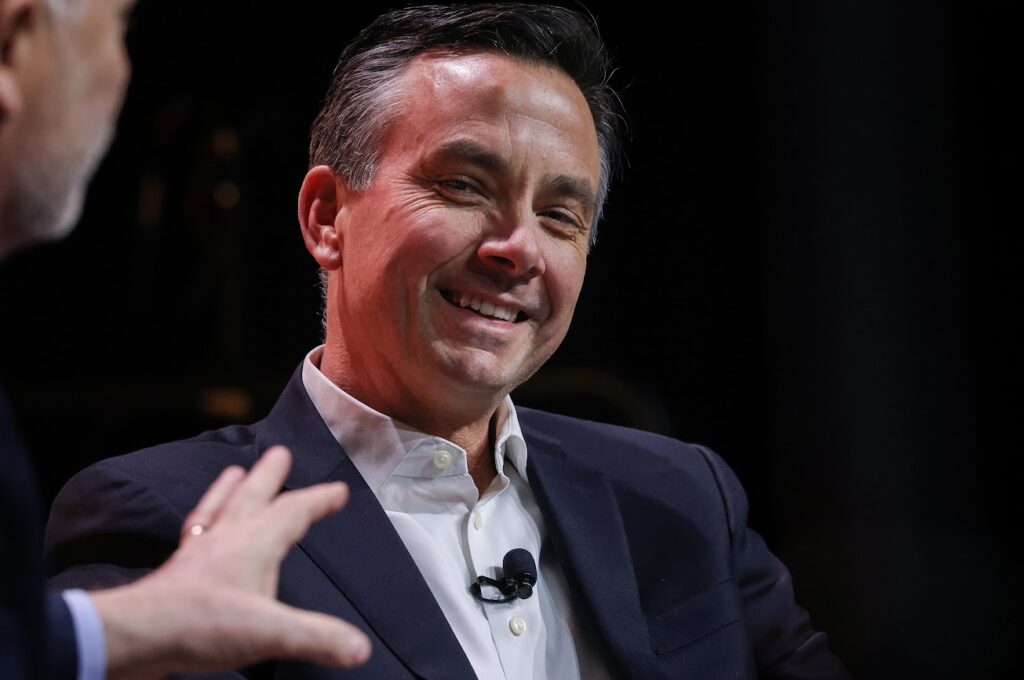 VICI to acquire four Canadian casinos in a sale-leaseback
VICI Properties owns the Canadian province of Alberta. At least the gaming land.
The real estate investment trust (REIT) reached an agreement last week to acquire four Alberta-based gaming properties owned by Century Casinos for $164.7 million.
Century, which took ownership of the Nugget Casino Resort in Sparks last month, will lease the operations from VICI for $12.8 million in annual rent. VICI announced a similar deal in January to acquire four casinos in Alberta operated by PURE Canadian Gaming Corp. for $200.8 million. PURE will pay VICI $16.1 million annually to lease the operations.
VICI President John Payne said in a statement the deal demonstrated "our ongoing desire to expand internationally and confidence in the Canadian gaming market."
The Century properties include two hotel casinos in Edmonton and two racetrack casinos, one each in Edmonton and Calgary. As for PURE, two casinos are in Edmonton, one in Calgary and one in Lethbridge.
The deals are small in comparison to VICI's other major acquisitions, including the $17.2 billion acquisition of rival REIT MGM Growth Properties in 2021 and VICI's contribution of $4 billion toward a $6.25 billion purchase of the Strip properties that were operated by Las Vegas Sands Corp.
On the Strip, VICI owns roughly 660 acres covering 10 resorts operated by MGM Resorts International, Caesars Entertainment, Apollo Global Management and Hard Rock Entertainment.
"VICI shows it's willing to execute smaller deals to develop and further diversify," Truist Securities gaming analyst Barry Jonas said in a research note.
The REIT has a pending deal in partnership with Century to buy the Rocky Gap Casino and Resort in western Maryland from Las Vegas-based Golden Entertainment for $260 million. VICI is paying $203.9 million for the land and buildings and Century is paying $56.1 million for the operations. Century agreed to pay VICI rent of $15.5 million annually.
Featured Videos
Comment Policy (updated 4/20/2021): Please keep your comments civil. We reserve the right to delete comments or ban users who engage in personal attacks, use an excess of profanity, make verifiably false statements or are otherwise nasty. Comments that contain links must be approved by admin.