Senate race updates: Laxalt claims 'historic' victories on SCOTUS rulings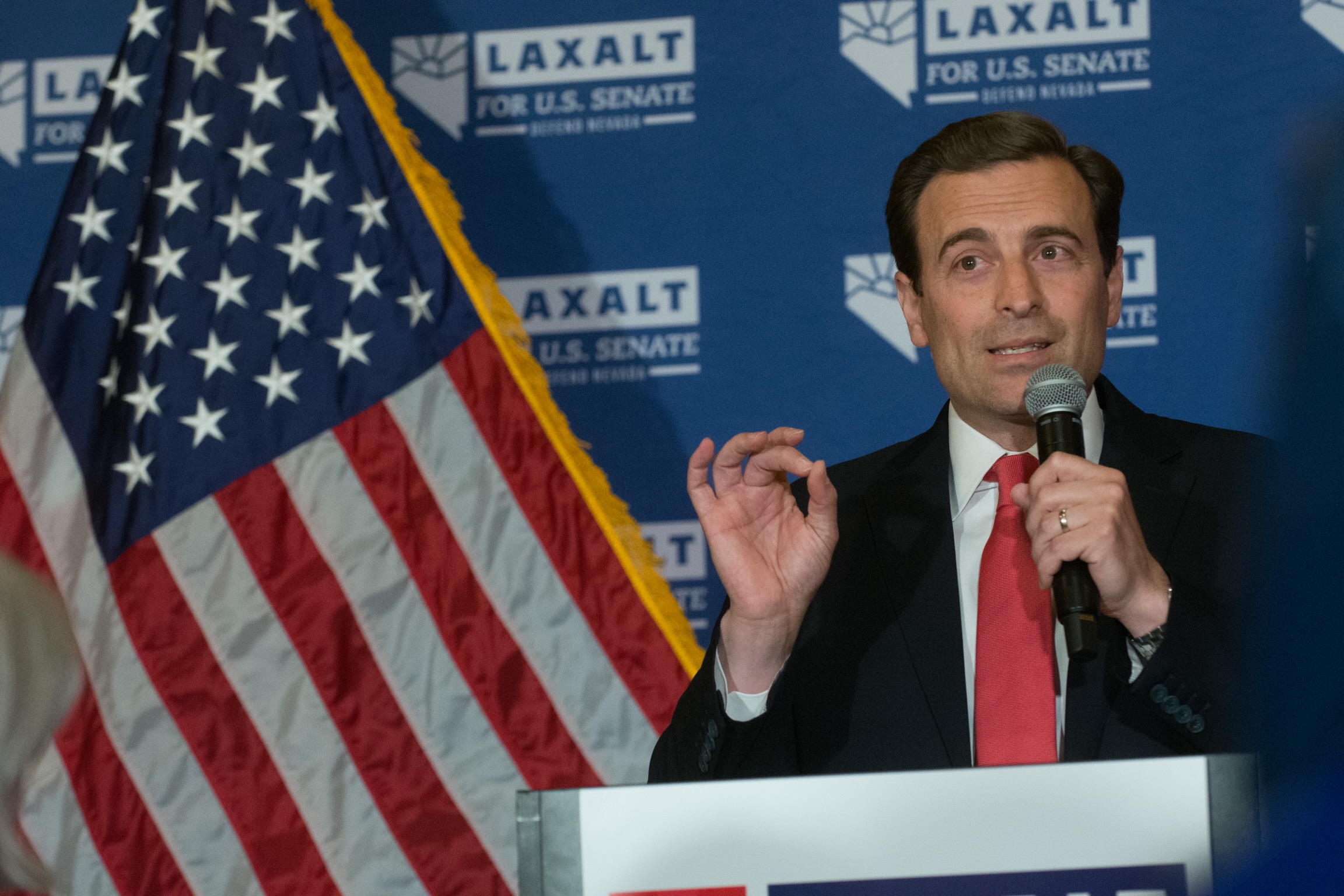 Even as the historic reversal of Roe v. Wade has dominated the news cycle, the Supreme Court has for the last two weeks released a raft of major decisions securing historic wins for conservatives in rulings all decided by a partisan 6-3 split on the court. 
That includes a ruling on religious schools and school choice, in which the high court struck down a Maine law that prevented public money from being used on students enrolled in private religious schools. It also includes a major ruling on the First Amendment's separation of church and state and the striking down of a New York law on the concealed carry of guns.
On all three cases, Republican Senate candidate and former Attorney General Adam Laxalt — who has been endorsed by key gun groups, such as the National Rifle Association, and anti-abortion groups such as National Right to Life — claimed some version of either a "historic" or "tremendous" victory.
On the New York case, for instance — which enshrined a version of constitutional originalism by overturning the law because it lacked a sufficient historical basis — Laxalt said that "as politicians in Washington are voting to impose additional restrictions on our constitutional rights, I am grateful that the Supreme Court upheld fundamental principles of our country."
Laxalt has long-standing ties to the conservative legal movement behind the push toward originalism, including the highly-influential Federalist Society, which counts all six of conservative Supreme Court justices among its current or former membership. As attorney general, Laxalt also founded a "federalism unit," which was explicitly designed to "combat federal overreach."
Democratic Sen. Catherine Cortez Masto has, by comparison, released few statements about non-Roe Supreme Court cases, instead touting her support of the aforementioned federal gun legislation or calling for the protection of "a woman's freedom to make her own health care decisions."
A modern split ticket?
As SCOTUS has swallowed media attention, Cortez Masto has also quietly cashed in on a long history of backing the state mining and agricultural industries in the form of two endorsements from rural Republicans.
The first came from Ely Mayor Nathan Robertson, who wrote explicitly in his endorsement earlier this month that Cortez Masto "has earned our support in rural Nevada" by voting to block proposed taxes on the mining industry.
The second, announced Wednesday, came from longtime Churchill County Commissioner Carl Erquiaga in an op-ed published in the Reno Gazette Journal. There, Erquiaga pointed directly to Cortez Masto's opposition to a proposed measure backed by other Democrats that would have increased the federal tax burden on small farms.
"She stood up for families like mine, and I won't forget that," Erquiaga wrote.
How much political weight such endorsements could pull in under current electoral conditions remains unclear. Rural areas more generally have been reliable territory for the Trump-led Republican Party, even more so than in the pre-Trump era.
But the endorsements emerge as something of a bulwark for Cortez Masto, who has for months been targeted by a national Republican operation intent on casting her as a "false moderate," and a tool of the Democratic Party's left wing, especially on the issue of federal limits on oil leases in rural Nevada. That policy is now under increased scrutiny from Republicans amid spiking gas prices.
In numerical terms, a bipartisanship index maintained by the Lugar Center and Georgetown University's McCourt School ranked Cortez Masto the 34th most bipartisan senator out of all 100 in 2021, and the 19th most bipartisan among her 50 fellow Democrats.
About that president …
Looming over all Democratic candidates for office this year is the faltering popularity of President Joe Biden, whose approval rating fell below 40 percent for the first time ever this month, according to an aggregate tracker of polls from FiveThirtyEight.
That unpopularity has already been a messaging boon for Republicans, who have sought to smooth over the policy peculiarities of any given race in a bid to tie the fortunes of all Democrats to the sinking White House.
In Nevada, Laxalt spent a week tweeting daily that "my opponent [Cortez Masto] still refuses to say whether she supports Joe Biden for re-election."  
Last week, Indy reporter Humberto Sanchez put that question to Cortez Masto, to which she said: 
"I'm focused on my state, what's happening in Nevada, and what we can do now. I'm not going to speculate about what's going to happen in the future," she said. "I only know I can control and try to work on what needs to be done now, as I work in the Senate. And what I hear across the state are those kitchen table issues that people are dealing with and that is my focus right now."
Editor's Note: This story appears in Indy 2022, The Nevada Independent's newsletter dedicated to comprehensive coverage of the 2022 election. Sign up for the newsletter here.
Get more election coverage
Click to view our election page
Featured Videos
Comment Policy (updated 4/20/2021): Please keep your comments civil. We reserve the right to delete comments or ban users who engage in personal attacks, use an excess of profanity, make verifiably false statements or are otherwise nasty. Comments that contain links must be approved by admin.